Rules of the CONSULT/R-Donau-Auen-Cup 2015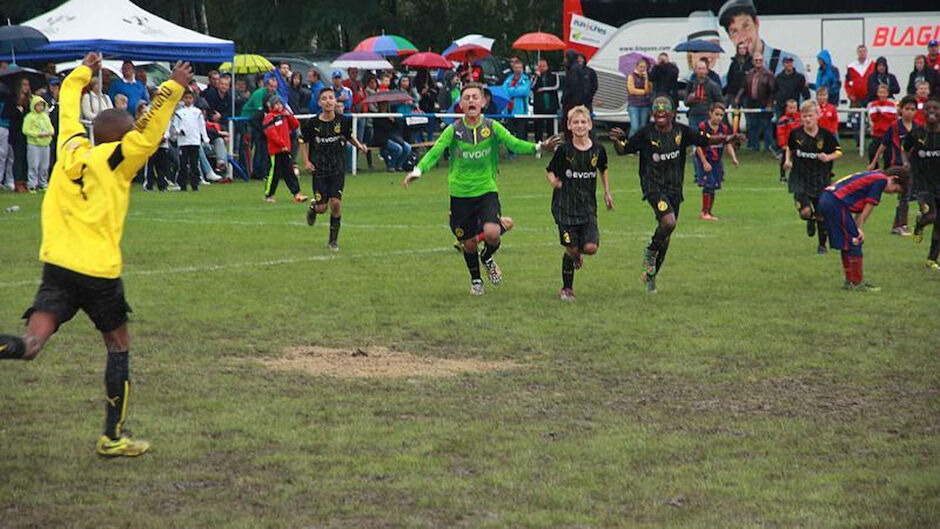 TOURNAMENT RULES:
The rules of the Soccer association of Lower Austria - Niederösterreichischen Fußballverbandes (NOEFV) apply.
No offside.
The keeper is not allowed to pick up back passes with hands.
Football boots with 6 studs only or with studs of iron or another metal are not allowed. In case of doubt the jury will decide.
ALLOWANCE TO PARTICIPATE:
Only players born 2005 or later are allowed to participate.
It is mandatory to hand in players' cards before the start of the tournament.
Guest players are allowed if the jury agrees.
You can substitute as many players as you like, the game needs to be interrupted to do so.
NUMBER OF PLAYERS:
6 players + 1 goalkeeper.
You can bring 14 players maximum.
GOALKEEPER:
The goalkeeper is allowed to touch the ball with his hands within the penalty area only. When the goalkeeper plays the ball it has to stay in his own half or has to be touched by a player of his team. Otherwise there will be free kick for the opponent team from the kick off point. If the goalkeeper does not take the ball in his hands and he continues the game using his feet it is allowed to pass further than only his own half.
PENALTIES:
blue card = 2 minutes exclusion, the player sent off is not allowed to be substituted.
The time penalty ends if the punished team receives a goal.
A blue-red card means that the sent off player must not occur in the current game anymore. But it is allowed that he is substituted by another player after 2 minutes or after a received goal.
A red card is to be treated as in 13.
If a player is sent off with a red card the jury can punish him for more than one game or for the whole tournament.
NON APPEARANCE AT A GAME:
In general this means the game will be a 0:3 loss for the team not appearing, unless there is a good cause. This will be decided by the jury.
DURATION OF A GAME:
1 x 13 minutes without changing sides in group stage and in final stage forplaces 3-24.
1 x 20 minutes without changing in the final.
FIELD SIZE:
BALL SIZE:
GARMENTS:
Please bring two different sets. If two teams have similar shirts, the team announced first in the schedule has to change their garments.
MODE:
6 groups with 4 teams.
Top 3 teams of each group go to the second round. Second round: 6 groups with 3 teams, top 2 teams of each group go tot he next round
3rd round: 4 groups with 3 teams and the group winners move on to he semifinals
Semifinal winners play the final, losers play for 3rd place
If there will be a draw in any game after the group stages the winner will be determined by penalty kicks. Three players like e.g. in World Cups and then k.o.-system. Distance for penalties will be 9 metres.
RANKING:
In case of an equal number of points, the ranking will be decided about by the following criteria: 1. goal difference 2.higher number of scored goals, 3. Result of the direct match 4. Penalty kicks (3 players like e.g. in World Cups and then k.o.-system. Distance for penalties will be 9 metres)
DECISIONS OF TOURNAMENT ORGANISATION:
In case of doubt the jury will decide. The jury's decisions are final and not debatable.
Zum Seitenanfang»
Mehr zum Thema